ENRG Blanket® encloses our natural, non-toxic and non-corrosive phase change material, BioPCM®, between two rugged, multi-layer films (polymer and /or aluminum). The resulting "blanket" is tear-resistant, long-lasting, and will maintain its thermal performance for over 100 years. The ENRG Blanket® is easily placed above drop ceilings, in roofs, or stapled to exposed wall studs in retrofit or new construction.
Tuning the phase transition in the BioPCM® enables active heat absorption in the ENRG Blanket® and delays the need for cooling in summer. Similarly, in winter, the ENRG Blanket® can be tuned to absorb and release stored heat when room temperature drops below the desired set point.
EXPLORE RELEVANT INDUSTRIES
Our BioPCM® products are building code compliant and contractor-friendly. In most locales, savings from the ENRG Blanket® will return its fully-installed cost within 3 to 5 years, (depending on energy cost). 
Reduced Carbon Footprint
Reduces HVAC power consumption up to 25-35%, lowering greenhouse emmisions
Extended Equipment Lifespan
Extends HVAC equipment lifetime by decreasing run time up to 15-20%
Quick & Easy Installation
Most applications install within a few hours, avoiding business disruptions
Reduced Carbon Footprint
Requires no power and maintenance, delivering savings for over more than 100 years
Installation / Applications
ENRG Blanket® is delivered in 2' x 4' sheets and can be installed in a variety of locations in a building. Installation can often be completed in a single evening. Most applications require between 65-85% coverage of the gross area.
Optimizing the amount of the material requires analysis of the building, weather data and operational characteristics of the HVAC system. We can review your building/space requirements and make a recommendation based on your specific needs.
If desired, we offer full-service domestic installation services through our network of national, certified installers.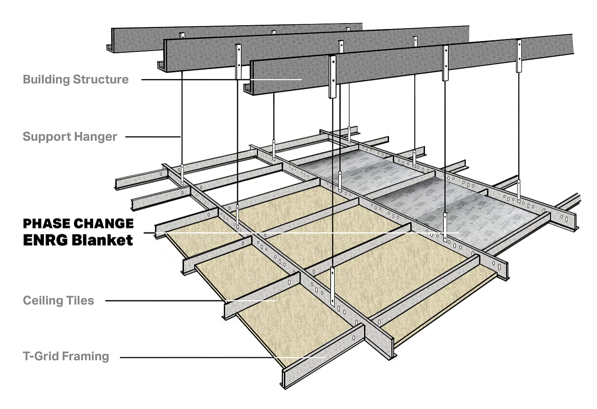 One of the simplest applications is placement above drop ceilings. The technician would lift the tile, place the product on the surrounding tiles and then replace the tile where access was gained.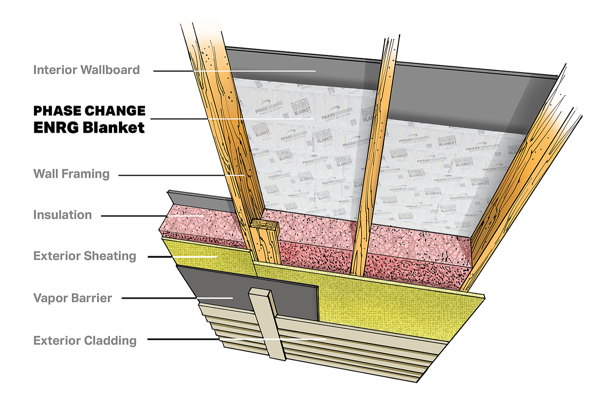 ENRG Blanke® is applied by simply stapling the material to exposed wall studs.
*Please note that this does not replace regular insulation. Instead, it works congruently with insulation. Insulation is a passive barrier to heat or cold entering a space. ENRG Blanket® is an active building component which absorbs and releases thermal energy to buffer internal temperature swings, making the space more comfortable.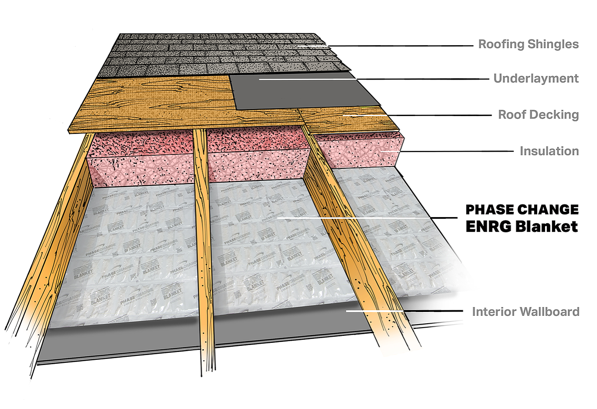 ENRG Blanket® can be used in conjunction with code-mandated insulation and roofing materials.
Telecom reduces energy base load and peak demand
School reduces HVAC energy use by 31%
Global Retail Bank reduces HVAC energy use by 27%
Make the change that matters